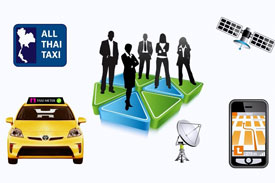 Thailand Local Transport
Mass Transit
Bangkok is the only city in Thailand to have an above-ground (BTS) and underground light-rail (MRT) public transport system.
City Bus & Sŏrng•tăa•ou
Bangkok has the largest city-bus system in the country, while Udon Thani and a few other provincial capitals have some city-bus services. The etiquette for riding public buses is to wait at a bus stop and hail the vehicle by waving your hand palm-side downward. You typically pay the fare once you've taken a seat or, in some cases, when you disembark.
Elsewhere, public transport is provided by sŏrng·tăa·ou ('two rows'; a small pick-up truck outfitted with two facing benches for passengers). They sometimes operate on fixed routes, just like buses, but they may also run a share-taxi service where they pick up passengers going in the same general direction. In tourist centres, sŏrng·tăa·ou can be chartered just like a regular taxi, but you'll need to negotiate the fare beforehand. You can usually hail a sŏrng·tăa·ou anywhere along its route and pay the fare when you disembark.
Depending on the region, sŏrng·tăa·ou might also run a fixed route from the centre of town to outlying areas, or even points within the provinces.
Taxi
Bangkok has the most formal system of metered taxis, although other cities have growing 'taxi meter' networks. In some cases, fares are set in advance or require negotiation.
In bigger cities, traditional taxi alternatives and app-based taxi hailing initiatives are also available – sort of.
Uber
(www.uber.com/cities/bangkok), undoubtedly the most well-known ride service in the world, was introduced to Thailand in 2014. It quickly gained popularity among those looking to avoid the usual Bangkok taxi headaches: communication issues, perpetual lack of change and reckless drivers. Yet in late 2014 Thailand's Department of Land Transport deemed the app-based outfit illegal, declaring that its vehicles weren't properly registered, its fares unregulated and its drivers unlicenced. At the time of writing, the situation seemed to have reached a stalemate, with Uber still operating in Bangkok, albeit less conspicuously.

The good news is that other outfits such as GrabTaxi (www.grabtaxi.com/bangkok-thailand) and Easy Taxi (www.easytaxi.com/th), both of which operate via already-registered taxis, haven't been affected by the ruling. And in 2015, a domestic alternative, All Thai Taxi (www.allthaitaxi.com), had even been introduced.
Săhm·lór & Túk-túk
Săhm·lór are three-wheeled pedicabs that are typically found in small towns where traffic is light and old-fashioned ways persist. The modern era's version of the human-powered săhm·lór is the motorised túk-túk. They're small utility vehicles, powered by screaming engines (usually LPG-powered) with a lot of flash and sparkle.
With either form of transport the fare must be established by bargaining before departure. In tourist centres, túk-túk drivers often grossly overcharge foreigners, so have a sense of how much the fare should be before soliciting a ride. Hotel staff are helpful in providing reasonable fare suggestions. Readers interested in pedicab lore and design may want to have a look at Lonely Planet's hardcover pictorial book, Chasing Rickshaws by Lonely Planet founder Tony Wheeler.
Motorcycle Taxi
Many cities in Thailand have mor·đeu·sai ráp jâhng, motorcycle taxis that can be hired for short distances. If you're empty-handed or travelling with a small bag, they can't be beaten for transport in a pinch.
In most cities, you'll find motorcycle taxis clustered near street intersections. Usually they wear numbered jerseys. Fares tend to run from 10B to 50B, depending on distance. You'll need to establish the price beforehand.
Bus & Minivan
The bus network in Thailand is prolific and reliable. The Thai government subsidises the Transport Company (bò·rí·sàt kŏn sòng), usually abbreviated to Baw Khaw Saw (BKS). Every city and town in Thailand linked by bus has a BKS station, even if it's just a patch of dirt by the side of the road. By far the most reliable bus companies in Thailand are the ones that operate out of the BKS stations. In some cases the companies are entirely state owned; in others they are private concessions.
We do not recommend using bus companies that operate directly out of tourist centres, such as Bangkok's Th Khao San, because of repeated instances of theft and commission-seeking stops. Be sure to be aware of bus scams and other common problems.
For some destinations, minivans are increasingly superseding buses. Minivans are run by private companies and because their vehicles are smaller, they can depart from the market (instead of the out-of-town bus stations) and in some cases will deliver guests directly to their hotel. Just don't sit in the front – that way you can avoid having to watch the driver's daredevil techniques!
Bus Classes
The cheapest and slowest buses are the rót tam·má·dah (ordinary fan buses) that stop in every little town and for every waving hand along the highway. Only a few of these ordinary buses still exist, mostly in rural locations or for local destinations.
Rót aa (air-con buses) come in a variety of classes, depending on the destination's distance. Short distances are usually covered by the basic 2nd-class bus, which does not have an on-board toilet. For longer routes, buses increase in comfort and amenities, ranging from 1st class to 'VIP' and 'Super VIP'. The latter two have fewer seats so that each seat reclines further; sometimes these are called rót norn (sleeper buses).
Bring a jacket for long-distance bus trips as air-con keeps the cabin at arctic temperatures. The service on these buses is usually quite good and on certain routes sometimes includes a beverage and video, courtesy of an 'air hostess'. On overnight journeys the buses usually stop somewhere en route for a midnight meal.
Reservations
You can book air-con BKS buses at any BKS terminal, or even by phone with a payment at 7-Eleven. Ordinary (fan) buses cannot be booked in advance. Privately run buses can be booked through most hotels or any travel agency, but it's best to book directly through a bus office to be sure that you get what you pay for.
Source: http://www.lonelyplanet.com/thailand/transport/getting-around/local-transport#ixzz3z5urCiHM