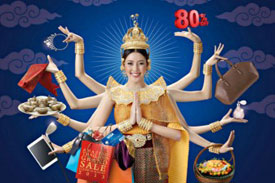 Tips for Shopping in Thailand
* Be careful with your bag and valuables while shopping in a crowded area.

* After buying and before leaving the shop, check that the goods are the same that you bought. Some shops do not exchange or give refunds, and make sure you keep the receipts.

* In the case that you have the shop send the goods by mail, ask for a receipt for sending the goods, so that you can be certain that there is an actual mailing service.

* Bargaining is an art long practised in Asian countries including Thailand. So feel free to ask for a proper discount when shopping in places where prices are not marked.

* Be careful in dealing with sidewalk vendors who may not offer genuine goods at fair prices.

* Souvenir stores in hotel arcades and department stores may ask for higher prices than general souvenir stores and street shops for they have to pay high rents. Yet these shops mostly offer high quality goods.

* To shop gems, make sure that you shop from a specialist in that field instead of buying from a simple souvenir store.

* Before making your decision to buy, especially precious objects, compare prices at several shops.

* Receipts should be obtained for the goods you buy. For jewellery you must get a certificate of guarantee as well.

* Some shops can offer a money-back guarantee but you should clearly determine all conditions with the shopkeeper beforehand.

* Ask for a written agreement to full refund on any goods returned within 90 days.

* Do not let a new acquaintance take you to shopping, for he or she is very likely to get a commission from the store. And the commission will be added to your payment.
Source : http://www.thaiwaysmagazine.com