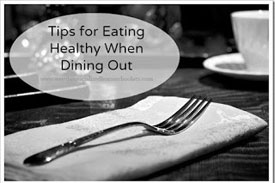 Tips for Dining
* Drink only bottled or boiled water.

* You can find places to eat 24 hours a day, but better avoid sidewalk stalls where, though food is cheap and palatable, hygienic conditions may not be up to standard.

* Most Thai food is already cut into small pieces before serving or made soft enough to be cut with a spoon or fork; thus, a knife is unnecessary.

* Saltshakers are rarely found on Thai dining tables, so add a little caramel-colour fish-sauce (called nam-pla in Thai) instead, if you find your food not salty enough.

* English is spoken in large restaurants in tourist provinces and most establishments have menus in Thai and English.

* Beckon waiters with a wave of a hand. Don't clap, snap fingers or hiss.


Tipping
Normally most hotels and restaurants add a 10% service charge to the bills but a tip for waiters is appreciated. For porters, a tip of 20-40 baht is acceptable.
Source : http://www.thaiwaysmagazine.com