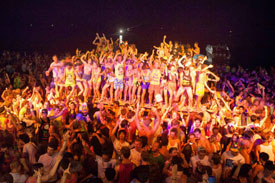 Top 10 Must-Do Thai Experiences!
You cannot boast that you've truly been to Thailand (any part) till you've done all ten! This is your bucket list to an authentic Thailand Experience!
1) Sun-lovin' on a Koh
They call their sun-kissed islands "Koh", and that word is like heaven to a beach lover like me. I've lain on the soft sandy beaches of Koh Lanta, bathed in the crystal waters of Koh Samui, and calledKoh Lipe home for five glorious days. When you find yourself yearning for the best island experiences, Thailand's wondrous Kohs beckon.
2) Eat tom yam like a pro
When I had my first taste of authentic tom yam, I was sitting on a dilapidated stool by the roadside, glamorously clad in singlet and shorts. The first spoonful, it was as if a fiery beast was trying to claw its way out of my mouth. From my spiced-up swollen lips, I vowed to never put myself through the torture ever again. Five days in Thailand and twenty two bowls of tom yam later, the mighty inferno was tamed. It takes time to acclimatize your taste palates to the spicy local delicacy, but once you've gotten past the initial flames, you'll find yourself claiming tom yam as part of your daily diet in Thailand!
3) Eat bugs
You'll see the fried little cretins in roadside stalls, and you'll always be curious how they'll taste like. Let me tell you upfront - they taste nothing like chicken! Still, it was quite a memorable experience to put the fried insects in your mouth, the crispy legs touching the top of your mouth whilst you chew on the crunchy exterior.
4) Go for a traditional Thai massage
The ladies/men are brutal, but that's the reason why they are the best in the world! Massage parlours are aplenty, but once you've picked a great (and reliable) one, you'll always want to go back for more pain. Using force on the acupuncture points, a Thai massage will leave you in pain for a split second, followed by a refreshing feeling of rejuvenation all day long.
5) Haggle like there's no tomorrow
Till today, no country holds a candle against Thailand's shopping experience. The clothes go for cheap, and there is always room to haggle. From night markets to outdoor markets and to even roadside stalls, remember to ruthlessly ask for a discount.
6) Go for a 'show'
Now, what are you thinking there? There are a whole lot of forms of entertainment in Thailand, but more well-known productions such as Siam Niramit in Bangkok and Phuket's FantaSea will leave you breathless. Brilliant colours, extravagant props, impressive stage sceneries and animals that can act make these attractions world class.
7) Full moon party
Ah, the world famous Full Moon Parties. Happening in Koh Phangan every month, who needs Ibiza when you could be here at the heart of the party at a fraction of the cost? Dance the night away on the festive beaches, where a melting pot of party-goers will join you in the colourful fiesta.
8) Say wat?
Wat - that's the name given to the many sacred and holy temples of Thailand. It's quite an enlightening experience to be surrounded by the rich history, heritage and resplendent stupas, as you watch the monks meditate in silence and go about their daily routines.
9) Get wet!
N..really. I kid you not. Head over to Thailand for Songkran, and you'll see what I mean. No street is safe from the colourful splashes of water during the nation's hottest month. You'll spot many foreigners during the celebration - converging together just to be part of this fun festival! Tip - wear an old t-shirt. Chances are you will not be able to wash the colour off ever.
10) Tuk tuk
You've never truly had a full Thai experience until you've sat on a hell-raising tuk tuk ride through the city streets. These death-defying drivers will find every nook and corner to turn just to avoid the jam, and sometimes that would mean going against the traffic. Don't worry - just hold on tight to your belongings (and to yourself!) and you'll be just fine.
Source : www.airasia.com